With Call of Duty: Black Ops – Cold War getting the annual treatment of having a Nuketown map in its multiplayer mode. The first iteration of the map was first introduced to us in the original Black Ops game and has appeared in the franchise ever since. Having a bomb go off at the end of every game.
Now this map is absolute mayhem when playing. But as with Call of Duty: Black Ops – Cold War having this newer version of the map it did make us think. Should this map continue?
Nuketown – Black Ops Version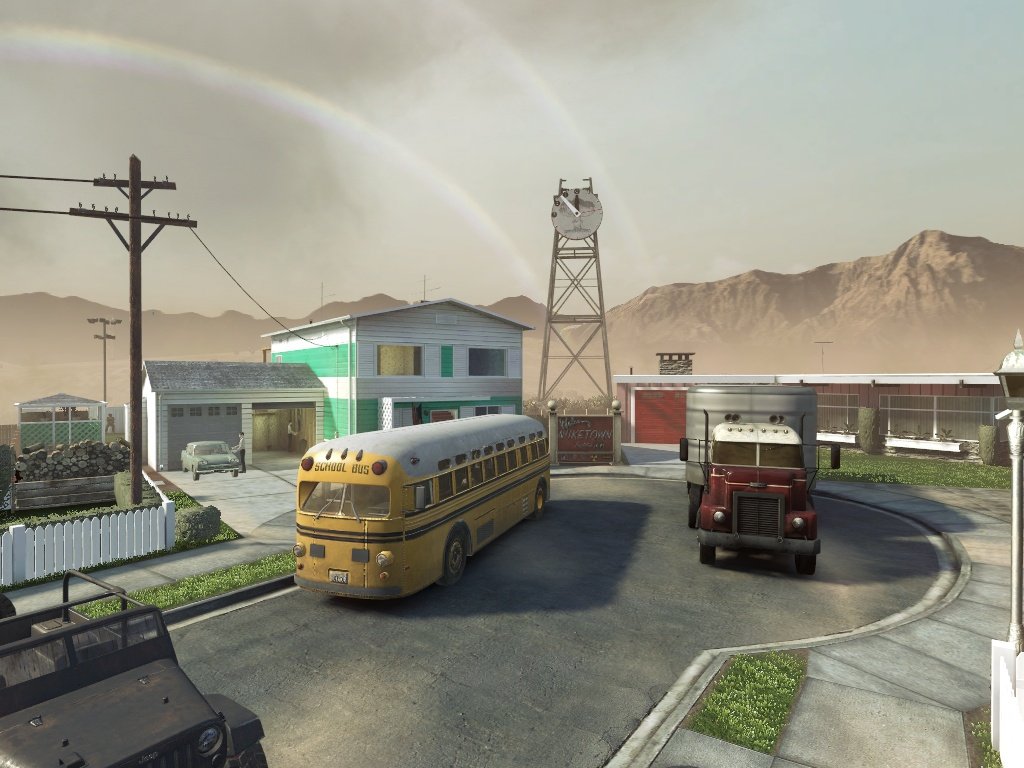 The first version of the map was an instant classic with players. This version had the style of the life of a stereotypical fifties 'nuclear' family. This went for the mannequins as well as the buildings and cars.
I think it took its inspiration from a part of the Indiana Jones film The Kingdom Of The Crystal Skull. This was released two years before the first Black Ops and had a very similar destination in the film. It also features as one of the maps on COD Mobile.
Black Ops 2 Version
The Black Ops 2 version of the map is set in 2025. This newer map was supposed to represent what the homes of the future will look like in 2025. Still being a 1960s retro-futuristic, this map also had a cool easter egg that allowed players to play vintage Activision games while in Nuketown.
This game was also the first time to feature this map as a Zombies map. It had the 2025 version be affected by lava as well as overrun by the horrific zombies.
Black Ops 3 Version
Black Ops 3 has the most futuristic map in the series so far. This featured a newer style of house, futuristic vehicles and robotic mannequins that can chase you like zombies if you do the easter egg.
There was a newer nuke in this version as well. Instead of a normal nuke there was an electrical explosion that still did the same amount of damage and destruction.
Black Ops 4 Version
The Black Ops 4 game had the most "Nuketowns" with it appearing in Multiplayer, Zombies and even the Battle Royale mode Blackout. The multiplayer map had the same layout as the previous iterations but this time it is set in Russia and has a cold war feel.
This map is filled with Russian cold war propaganda as well as being littered with mannequins that are supposed to fit in the same time period. There was also another zombies version of the map in the form of Alpha Omega.
This was an updated and almost remastered version of the Black Ops 2 version of the map adding an easter egg for players to try and work out. The Blackout version was also quite similar to the zombie version of this game. In the map there was a place called Nuketown Island which also was infested with zombies.
Cold War Version
What we do know about this version of the map is that it takes place in the same place but in the eighties, having been vandalised. We don't know if there are any easter eggs on this map yet but with the previous versions of the map it does look likely. If you want to buy Call of Duty: Black Ops – Cold War & you are on XBOX then check this great deal for the game, for other platforms check here.
That is how much the Nuketown map has changed in the Black Ops series. Are these versions of what's essentially the same map just becoming repetitive? I mean they are changing but only in style so is it time for a new map for us to create havoc in?
What's your favourite version of this map? Do you think adding Nuketown every year gets boring? As you are here why not check out some of our other articles like this one about Titanfall Coming to Steam and getting backlash. Or what about our review on Tens! If you want more content then head to our YouTube channel. Thanks for reading VeryAli!
To support the channel and website for free, just Use the Creator Code/Tag VeryAli at checkout whenever you purchase something from the Epic Games Store or Fortnite's In-Game Store to support the channel for free , we really appreciate it & it helps us during those trying times.
Get the best gaming deals here ( we get a small commission as support when you make a purchase) or through Amazon .You can also donate directly to support our work at: streamlabs.com/VeryAli ,where you will be featured in our All-Time Top Contributors List or if you want to be discreet about the donation then use the link PayPal.me/VeryAli.